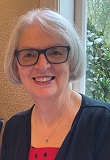 I had the honor to meet Stephanie about a year ago when we both started to talk about translating her
Charlotte Mason Made Easy
course. I had seen her course before. I was pretty close to buying it. The only reason why I waited was that my oldest girl was still in kindergarten and I thought I would not need it. But I was wrong, it is never too early (or to late) to read Charlotte Mason, parts of her original work, and at the same time have Stephanie guide you through practical application of Mrs. Mason's principles.
It is so true that in our efforts to economize in our homeschools we (at least I) spend endless hours, much sleep, even loose our sanity, and we end up paying a high price to have a harmonious, real, and successful homeschooling. We usually feel guilty about spending
on us
, but we need to take care of ourselves, gain confidence, and learn, and then our children will be well taken care of in return.
Her Charlotte Mason course is in the final stages of being revised by María who has joined Stephanie and myself in this effort of presenting some Charlotte Mason materials in Spanish. Stephanie's new course is there for you, the newbie and the experienced. And know that Stephanie has a MONEY BACK POLICY that will have you cover in the event you less than fall in love and profit greatly from any of her products.
Let a kind and savvy homeschooling mom pamper you and your children!
Sincerely,